About your newborn session
Why choose Michelle Studios for your newborn portrait session? (Raleigh, Cary, Holly Springs newborn photographer)
When looking for a photographer for your  newborn, it is recommended that you look for someone with experience.  A photographer who has worked with many newborns will provide a safe experience for your baby and will be well versed in posing newborns for the cute curled up images that you will love. . Michelle has specialized in the art of newborn photographer in the Raleigh area for over a decade. She has provided beautiful images to hundreds and hundreds of new mommies and daddies in the Raleigh and surrounding areas.  She also has many clients who travel from out of state to have their portraits taken.  Additionally she has the fairy gardens outside and a separate, cozy studio for newborns to keep the babies from being exposed to the germs that may be present in a studio where many children are being photographed.   She has a larger studio to capture images with mom and dad it you choose to have those images taken as well.   Michelle's studio is located in South Raleigh. She has been recognized by Expertise as one of the best newborn photographers in Raleigh NC. Click below to read their review.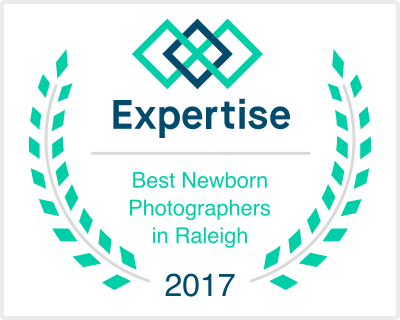 While you are waiting, you may want to consider a maternity session. Her Mini session is perfect for documenting this special time in your life.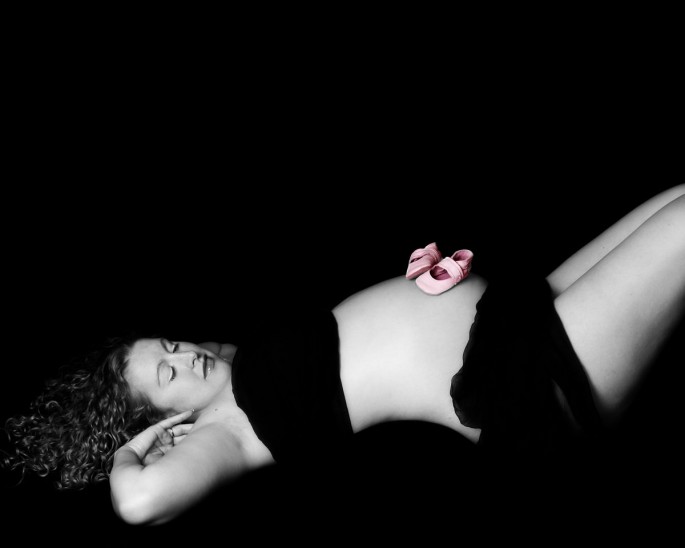 When possible Michelle loves to consult with new parents before the baby is born as newborn images are best taken in the first two weeks of a baby's life.  A sleeping baby will photograph best.  If you have already had your child and know you would like to book a session, please call 919-637-7985 or email her through this site's contact page as soon as possible.  Michelle always consults with parents prior to the session as planning for this experience is very helpful.   Although her style is simple, meaning the focus is always on the new baby, she has many baskets, backgrounds, wraps, tiny outfits, headbands, hats etc.. to satisfy the varying tastes of many new parents who may want to add props to the images.
All parents should dress lightly for the newborn experience because it is necessary to keep the studio very warm for the comfort of the newborn while they are undressed.  It is also highly recommended that mom and dad bring a set of changing clothes with them as accidents are unavoidable.  If you book a mini session for your baby, please try to bring them in with full tummies as the session is 45 minutes.  Most parents will feed the newborn during regular session and the studio is completely private for your convenience while nursing.  If you have started your new baby with a pacifier, the simple one pictured below does not leave lines around a baby's mouth when they use it and pacifiers are very helpful for soothing your baby while posing.
Last but not least if you have your baby in a warm month Michelle also provides customers with an outside studio to capture images like the ones below. Michelle calls these areas the fairy gardens.  The babies sleep so nicely outside as Michelle's studio is located on a quiet horse farm where the only sounds are those from the beautiful horses on the other side of her fence. Even though Michelle has been photographing newborns since 2003 she is super excited about each new baby that comes into the studio.  She is devoted to providing you with a unique experience and artistic images of your new baby.
Newborns and siblings :
 Michelle hopes that parents appreciate her candor with this post and realize that it comes from many years of experience and a desire for parents to leave her studio with beautiful and artistic images.
Michelle has photographed over a thousand newborns in the past 14 years.  She has also photographed many with toddler siblings. She realizes that there are many local photographers who do not even offer this option for parents so has come up with a system to get these images and still get the best newborn shots.   She recommends that toddler aged children which she considers less than 5 years old be brought in by another adult at the END of a newborn session.  The newborn sessions are very long and a toddler aged child simply does not have the patience to wait a couple of hours for their turn in the studio, nor do they want to be away from mom that long when she is in a separate room.  Remember this is a transition time for your toddler as well. Michelle does NOT work with toddlers in the newborn studio during the shoot as they can effect safety of the newborn and will effect her work flow.   Michelle ALWAYS waits until the end of the newborn session to take toddler and newborn images.  Her goal is to get the best newborn images for her clients and she has found from many experiences in the past that doing sibling pictures first can agitate the newborn and make it much more difficult to get them to settle for their individual shots.    Posing toddlers and newborns  can be tricky as we have to make sure the newborn is safe.  We also want baby to remain sleeping as it's not attractive to have them awake with arms and legs flailing about because they have just been squeezed by a well meaning toddler.  She will generally attempt to get two nice poses.  Most toddlers, no matter how sweet,  do not wish to be photographed with a new baby so she likes for parents to be aware of that before planning on bringing the toddler into the studio. She allows 20 minutes to try and get shots for mom and dad. There is a $40 fee to bring any child under the age of 5 in for portraits with a newborn.  She sometimes gets very sweet images and realizes that some parents really want them.  She suggests that 8 months is a perfect time to get sibling shots.